As of September 7, at least 11,440 people who had a breakthrough case have been hospitalized and another 2,674 people who had a breakthrough infection have died, according to data from the U.S. Centers for Disease Control and Prevention (CDC).
Of these figures, 25 percent of breakthrough hospitalizations and 21 percent of breakthrough deaths were among asymptomatic individuals, or their hospital admission or death was not related to COVID-19, although they tested positive for the coronavirus.
The figures may be even higher, as only 49 states are reporting breakthrough counts to the CDC at this time.
Last week, a new CDC study found that the highly contagious Delta variant has caused more severe breakthrough cases than officials had expected.
The latest data from the CDC also shows the impact that the Delta variant is having on the nation. The predominant strain has rapidly driven up the number of severe cases from a breakthrough infection.
Data collected by The New York Times in August shows that in just a month, the number of breakthrough hospitalizations had risen by roughly 3,600, and the number of breakthrough deaths had gone up another 1,000.
  
Breakthrough COVID-19 infections are also showing to have more adverse outcomes for older people, who were previously more susceptible to severe illness.
While those over 65 continue to have the highest rates of vaccination, they also account for the greatest percentage of breakthrough-related hospitalizations and deaths —81 percent and 87 percent, respectively— suggesting that their decision to get the shot was not enough to prevent them from facing severe illness.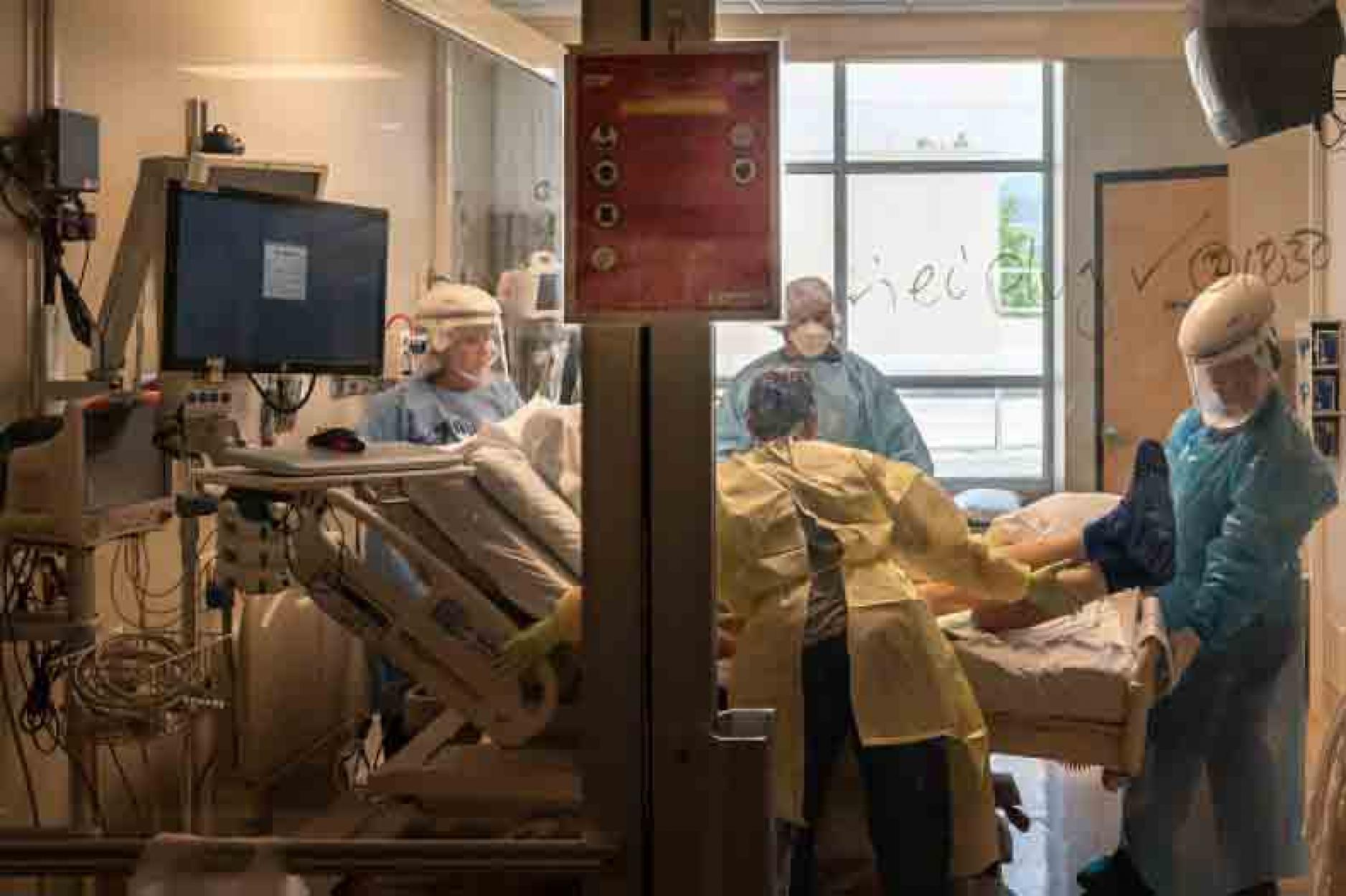 Breakthrough coronavirus cases that have resulted in severe infection have increased 1.5 times since last month. Above, medical staff in the COVID-19 intensive care unit at Three Rivers Asante Medical Center in Grants Pass, Oregon, treat a patient on September 9. —Nathan Howard/Stringer

Despite the unexpected threat the variant poses to vaccinated individuals, federal health officials are still calling on people to get the shot, especially since last week's study found that unvaccinated people are 11 times more likely to die from COVID-19 than those who have been vaccinated.
"Also, people who were not fully vaccinated [are] at about five times greater risk of becoming infected with COVID-19 than people who are fully vaccinated," a CDC spokesperson told Newsweek. "The findings show vaccines continue to provide strong protection against severe COVID-19 even though it provides less protection against the Delta variant than other variants of the virus."
The number of severe cases related to a breakthrough infection represents less than 0.01 percent of the more than 178 million people who have received the shot.
Dr. Matthew Sims, an infectious disease physician at Michigan's Beaumont Health, told Newsweek that while coronavirus metrics may help us gauge the number of people who are suffering severe illness from the virus, the numbers don't always paint the whole picture.
For example, while some patients with breakthrough infections are being hospitalized, they're faring much better than those who have not been vaccinated.
"I'm taking care of a lot of these patients right now," Sims said. "Almost all of them were unvaccinated. The vaccinated ones were actually not very sick. In fact, there were a couple who I thought: Why did this person get admitted? And sometimes they were admitted out of an abundance of caution."
At other times, he said, it may be because the vaccinated patient is immunosuppressed or tested positive for the virus despite being sick months ago.
"There's actually a few patients I saw that probably had sort of a remnant test," Sims explained. "These are people who had COVID a few months ago, [have] been vaccinated in between, are now coming in [to the hospital] for some other reason, and they test positive for COVID. When I called the lab and looked at the test, [the patients] were just barely positive. It's probably what we call remnant, where they're staying positive for a while."
Even though vaccines have been proved to be effective, the CDC is recommending that anyone, regardless of vaccination status, who lives in an area with substantial or high transmission of the virus should wear a mask in indoor public spaces.
The agency is also recommending that vaccinated and immunocompromised people should follow the same precautions as unvaccinated people, because they are more likely to get a breakthrough infection.
"Vaccine breakthrough cases are expected," the CDC says on its website. "COVID-19 vaccines are effective and are a critical tool to bring the pandemic under control. However, no vaccines are 100% effective at preventing illness."
It continued, "Some fully vaccinated people will get sick, and some will even be hospitalized or die from COVID-19. However, there is evidence that vaccination may make illness less severe for those who are vaccinated and still get sick. The risk of infection, hospitalization, and death are all much lower in vaccinated compared to unvaccinated people."
"Also, people who were not fully vaccinated at about five times greater risk of becoming infected with COVID-19 than people who are fully vaccinated," a CDC spokesperson told Newsweek.