Alberta Premier Jason Kenney introduced a wide array of sweeping restrictions to public life Wednesday and placed the province under a state of public health emergency as hospitals strain under the pressure of a fourth wave of COVID-19 infection.
Many of the new restrictions will only apply to businesses not signed onto a vaccine passport system the government is calling the "restrictions exemption program," which will allow vaccinated Albertans, as well as those who can present a negative COVID-19 test, to access participating businesses without facing restrictions, other than masking.
Editor: It is unknown how Kenney et al plan to circumvent the Genetic Non-Discrimination Act, which explicitly prohibits this PRECISE form of discrimination. It should be interesting.. got some popcorn?
The measures include restrictions on indoor social gatherings, including for vaccinated Albertans, masking in schools for students in Grades 4 to 12 and a ban on indoor dining.
Kenney said the measures were necessary in the face of a fourth wave of COVID-19 that could result in Alberta hospitals running out of staffed care beds in the next 10 days.
"We are facing an emergency that requires immediate action to save lives and to prevent an ongoing crisis in our health-care system," he said.
"We all wish we could simply turn the page and leave COVID in the past, but this disease is an invisible and ever-changing foe."
The comments come despite Kenney's government making decisions this summer to leave the pandemic behind itself by treating it as endemic and attempting to live with the virus. The province first removed almost all public health measures July 1 —a move chief medical officer of health Dr. Deena Hinshaw acknowledged this week led to the fourth wave— and then planned to remove all virus containment measures in August before walking back that plan.
Kenney said the province was wrong for thinking COVID-19 could be treated as endemic and apologized for that. But later, he said "I don't apologize" for relaxing measures this summer, saying keeping them in place would have led to widespread non-compliance and discontent.
The sprawling press conference from Kenney, Hinshaw, Health Minister Tyler Shandro and AHS president and CEO Dr. Verna Yiu came on the deadliest day of Alberta's fourth wave yet, with the province recording 24 deaths Wednesday from the novel coronavirus. It followed two days of meetings among the United Conservative emergency management cabinet committee on COVID-19, as well as the party caucus.
Across Alberta, 877 patients are in hospital with COVID-19, including 218 in intensive-care units, an increase from 822 and 212 the previous day, respectively. That's the highest number of ICU admissions at any point in the pandemic.
Alberta now has more than twice as many COVID-19 hospitalizations as Ontario, despite having a population one-third the size. Ninety-one per cent of ICU patients are not fully vaccinated.
The province's ICU capacity sits at 88 per cent after AHS opened an additional 132 beds in recent weeks. There are 270 total patients in Alberta ICUs, meaning without additional surge spaces, provincial ICU capacity would be 156 per cent. The Calgary area was at 83 per cent ICU capacity.
Yiu said Alberta will prepare to take extraordinary measures to deal with the ICU capacity crunch, including by reaching out to other provinces to request their ICU space for Alberta patients, as well as skilled labour who can help staff beds in the province.
She also said the province is beginning to educate the public on the critical care triage framework. If activated, it would dictate how Alberta will prioritize patients if it does not have the resources to treat all those who need care. Going down this route would be "an absolute last resort," Yiu said.
"The impact of this wave on our health system is already worse than any of the three waves that came before," Hinshaw said. "Our hospitals cannot sustain care for all Albertans with the dramatic and rapid increase of COVID patients we are seeing."
Kenney said the latest round of measures were recommended by Hinshaw Monday evening. When asked why she didn't act to introduce interventions sooner, Kenney stepped in and said he took responsibility for the province's policies. However, when asked what accountability his government will face for their handling of the fourth wave, Kenney said the focus shouldn't be on politics right now.
"I don't think this is about me. I think this is about protecting our hospitals. We have to do what is necessary to do so," he said.
When asked if she would resign over her handling of COVID-19, Hinshaw said she is "deeply, deeply" committed to the health of the province and that all she can do is her best. Kenney said Hinshaw has his full confidence.
In a statement following Kenney's availability, NDP Leader Rachel Notley called the fourth wave "a crisis of the premier's own making" and said neither he nor Hinshaw explained while they did not act sooner.
"Once again, those Albertans who did the right thing and got their shot will be punished for the failures of this UCP government to act. Once again, we're back to step one," Notley said.
"The severity of this fourth wave —and the consequences we see today— are the direct result of this UCP government's paralysis."
Alberta reported 1,609 new cases Wednesday, the second-highest count of the fourth wave. They came from more than 15,800 tests, representing a 10.5 per cent positivity rate, which is the lowest in more than two weeks. There are now 18,421 active COVID-19 cases in Alberta.
The 24 fatalities recorded Wednesday mark the pandemic's deadliest day since January, during the second wave of the pandemic before most Albertans had access to vaccines. The newly reported deaths range from people in their 40s to those aged 80-plus.
Vaccination rates continued to increase steadily Wednesday, with 8,776 new doses reported. Among Albertans aged 12 and over who are eligible for the vaccine, 79.5 per cent have had at least one shot and 71.4 per cent are fully immunized.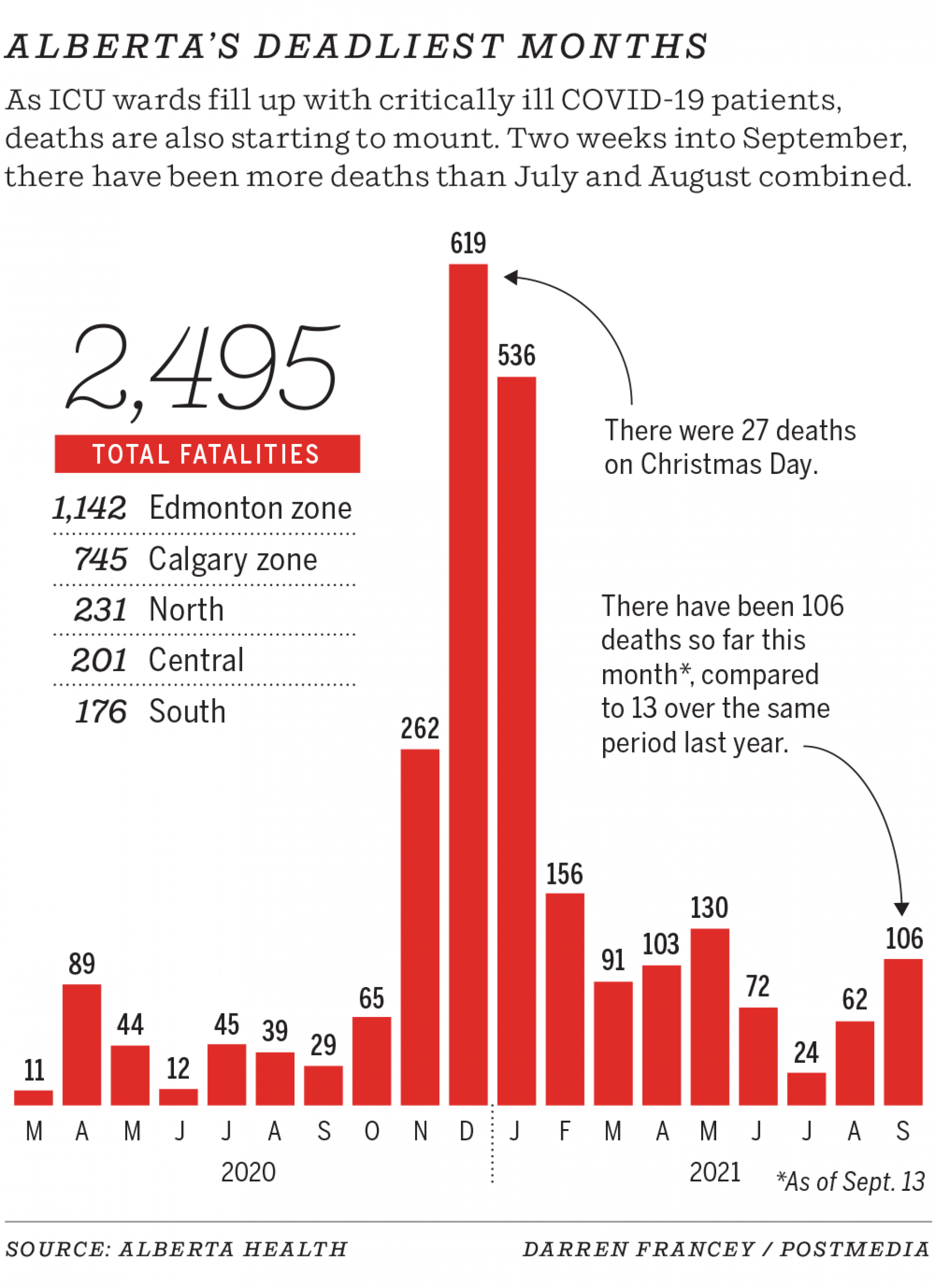 Meanwhile, a member of the UCP legislature is calling on Kenney to admit he botched the fourth wave of COVID-19 and to outline a plan to fix it.
"He must show some humility and admit he was wrong and tell us how he will make it right," Leela Aheer posted Wednesday on Twitter.
Aheer, who represents the constituency of Chestermere-Strathmore, is Kenney's former minister of culture, multiculturalism and the status of women. She was shuffled out of cabinet in July after being critical of Kenney's actions earlier in the pandemic, although the premier has denied the demotion was punishment for her remarks.
Shandro said the province continues to work to provide proof-of-immunization cards, but technical delays mean they will not be available through the province's MyHealthRecords website until Sunday evening. A QR code for digital vaccine proof will also be released.
Kenney had repeatedly promised Alberta would not bring in a vaccine passport system, but said he "reluctantly" adopted one to help prevent more COVID-19 deaths.
— With files from The Canadian Press and Madeline Smith —