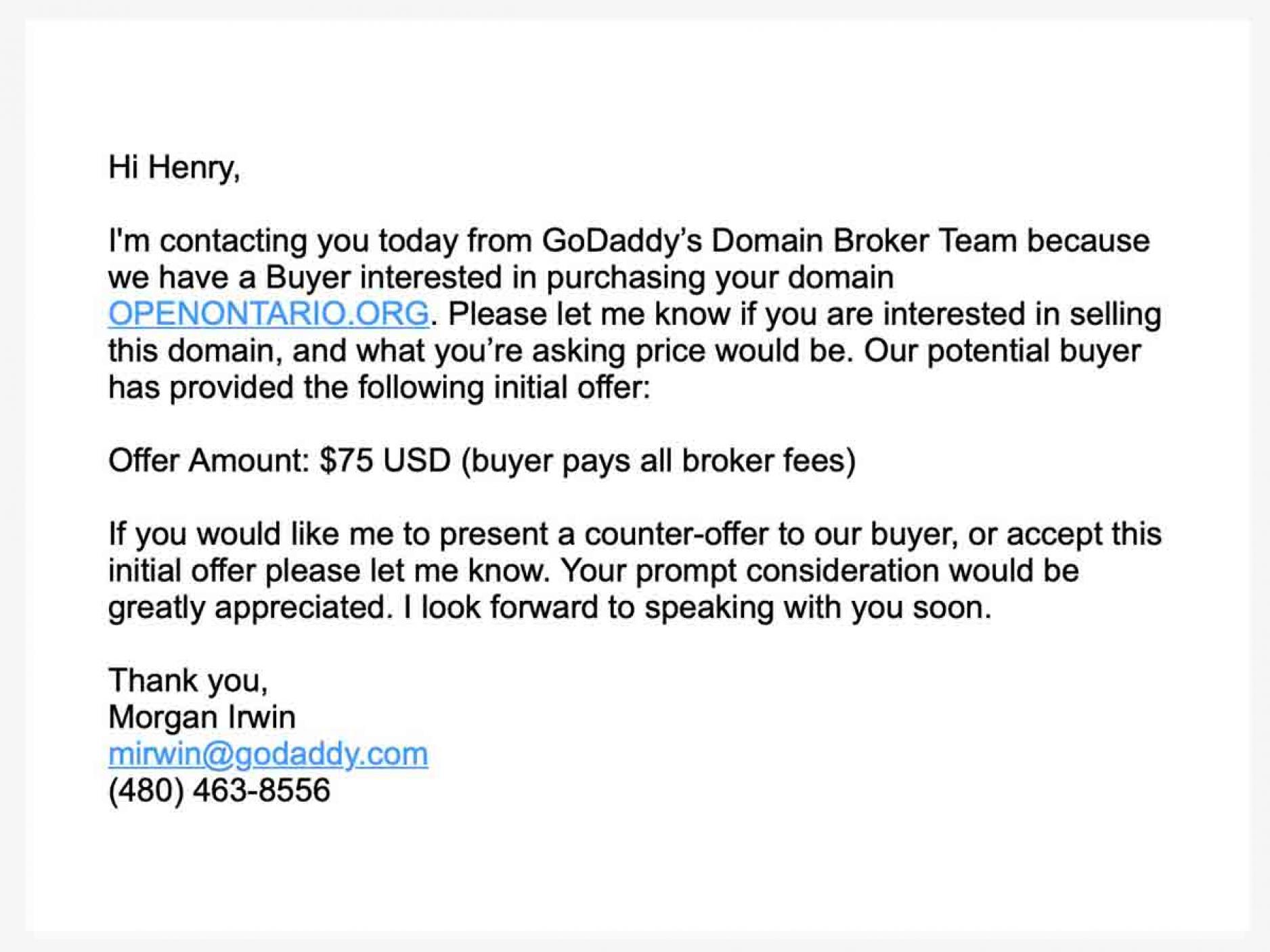 So, I got an offer the other day from an anonymous party (they made the offer via a domain broker) for the domain OpenOntario.org. I promptly fired off a reply to the broker that in an information war, only a fucking morons sells critical infrastructure to an unknown party, and told the broker to tell the anonymous buyer to contact us directly.
I need to know the name and contact information for the prospective buyer... This is an information war, so I'll deal with the buyers directly; I need to know who's going to be receiving possession of this domain. Please convey the address chad@openontario.org to the prospective buyer(s), and I anticipate their contacting me forthwith.
Now, I have no clue who this buyer is (it might be Open Ontario which is the FB front for the Lift The Lockdown Not-For-Profit) but it could just as likely be one of the anti-face groups like Raping Ontario or Killing Ontario.
As only a total fucking moron would transfer ownership of critical infrastructure (the OpenOntario domain gets over 1500 hits a day) to an unknown quotient. Moreover, if you go through a broker, they'll charge you brokerage fees, so rather than contact us directly, you're pulling this shifty shady shit. Highly suspect fuckery. I would tell you to go fuck themselves, but you're hiding behind a proxy, so I'm using this forum to broadcast the fuck-you message.
We're not going to be selling these domains unless we go bankrupt or our hydra is evicted, period. If people want to sponsor a domain (which will come with domain-centric branding) or just purchase ads and/or sponsor a set of articles (like the Rancourt Reports or the Case Count Fraud story-arc, or just the censored Joseph Mercola gems) you need to contact us directly so we can vet you.
Not that we don't trust you,
but only an idiot trusts an unknown quotient.
So quit hiding behind a proxy or just go fuck yourself. I think I speak for all of us at the Bakery, but you insult our intelligence by making a blind-offer. You spit on the image of the covfefe bakers. Do you honestly think we're that stupid? Holy shit, fucking derps. If you're an adversarial entity (>90% chance) then you're insulting our intelligence. Go back to sending us hate-feedback like a good little slave.
And if you're on the side of freedom, I highly recommend eliminating yourself from the gene pool. Moron.
PS: Jackass. Go fuck yourself.